January 17, 2018
Handkerchief might help fight flu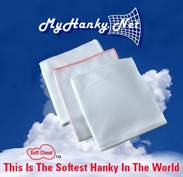 My Hanky
The My Hanky Handkerchief, created for hygiene, could help facilities fighting flu, its manufacturer said.
Experts recommend people cover their mouth when they cough and sneeze into their elbow. But those using tissues or thin handkerchiefs likely aren't protecting droplets from the air.
The My Hanky Handkerchief, made in America, consists of Pima Cotton, with longer-lasting fibers. My Hanky uses a knitting process called a double-knit interlock.
"The My Hanky Handkerchief, to our knowledge, is the only handkerchief manufactured today that is scientifically designed with fibers that are 35% longer than conventional cotton to contain airborne particles," says Frank Marino, president of The My Hanky Company. "They are three times thicker than a common hanky, and they are the softest, fluffiest and most absorbent handkerchiefs in the world, treated with My Hanky's proprietary Soft Cloud™ softening process."