June 23, 2015
GOJO launches SMARTLINK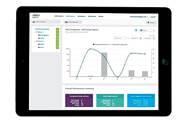 GOJO SMARTLINK Observation System

GOJO Industries has launched the GOJO® SMARTLINK™ Observation (OBV) System, a mobile application that connects to its web-based software.

The system lets observers collect hand hygiene and PPE observations using either a smartphone or tablet. The data is sent to the GOJO SMARTLINK software for easy, real-time reporting and feedback.

In addition, this system, which is available for iPhone, iPad and Android devices, can be customized for specific hand hygiene protocols, including in/out compliance, the company said.

"By using the OBV System, infection prevention professionals can easily analyze and utilize hand hygiene and PPE compliance observation data," said Tamara Cross, GOJO product manager, hand hygiene compliance systems. "This new system is designed to increase the standardization of data, which in turn, provides more accurate and detailed reporting. Plus, it will save IP professionals hours of desk work each month by eliminating the need to transcribe data and create reports."

Infection preventionists can click on the Demo Mode on the login screen or email smartlink@gojo.com to request a free trial.