November 10, 2015
Free onboarding program for drivers released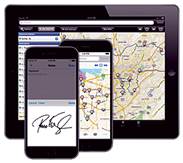 Route4Me
Route4Me Inc. has introduced a new onboarding program specifically targeted to Microsoft MapPoint users.
"Our new onboarding program makes the transition to Route4Me quick and painless," says Bjorn Orvar, director of marketing for Route4Me. "Every MapPoint user gets free onboarding and training from an assigned small business routing expert. Plus, they have a single point of contact throughout the process."
MapPoint users can receive a free seven-day trial period, the company said. Once onboarding is completed, users can receive e-mail support, live chat support and phone support.
Route4Me works on iPhones and Androids, as well as standard web browsers. Microsoft discontinued MapPoint in 2014. Route4Me was founded in 2009 and is used to drive optimized routing plans. It is geared toward small business owners who have transportation or fleets.