October 06, 2015
FoodHandler Inc. launches MedHandler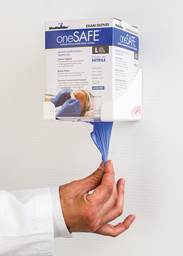 MedHandler OneSafe dispenser
FoodHandler Inc. announced the launch of MedHandler® oneSafe system, which includes the oneSAFE Single-Glove Dispensing System line.
The new gloves are in powder-free vinyl and blue nitrile. They can be accessed from single and triple wall-mounted dispensers.
The oneSAFE system is proprietary and lets users pull out a single glove by the cuff and put it on without touching the glove's handling surface. This can reduce cross contamination by 96%, company officials say. Improper hand hygiene practices cause the majority of foodborne illness and lead to healthcare-associated infections.
FoodHandler's newest oneSAFE system products are featured on the new oneSAFEsystem.com website.