August 30, 2016
Floor lift features electronics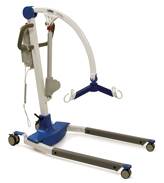 Lumex Pro Battery-Powered Floor Lift
GF Health Products Inc. has introduced the Lumex Pro Battery-Powered Floor Lift.
The floor lifts are sturdy and easy to use, the company said. It features electronics with LCD panel and a 24VDC motor, and can be operated with either the control box or hand pendant.
The lift has rubber-coated low base legs to protect furniture and walls, and has an emergency stop button and manual lowering mechanism.
The battery may be charged either while on the lift or remotely in the charging caddy, and the lift includes an extra battery and charging caddy. It is designed to meet the requirements of HCPCS Code E0635.