September 19, 2017
FDA clearance for non-invasive pulse oximeter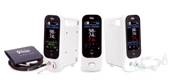 Masimo
Masimo has received FDA 510(k) clearance and market release of Rad-97™ Pulse CO-Oximeter. This includes configurations with the integrated NomoLine™ capnography and noninvasive blood pressure (NIBP) measurement from SunTech Medical.
Rad-97 features a color display that lets clinicians customize the device for each monitoring case. It features a rechargeable battery lasting approximately four hours and has built-in enterprise WiFi capability. It can connect to the Masimo Patient SafetyNet, allowing data transfer to electronic medical record systems. Rad-97 also is compatible with existing nurse call systems, the company said.
It supports point-to-point Bluetooth wireless connections with compatible devices, such as glucometers and weight scales, and will be available with an optional camera. Those who use a camera-equipped Rad-97 can connect patients and clinicians with Patient SafetyNet software, giving a telehealth option.