August 02, 2016
Fall risk management kits released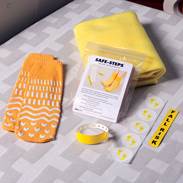 Fall Risk Kit
Encompass Group LLC's Albahealth® announced the release of Safe-Steps® Fall Risk Management Kits.
The kits include chart stickers, magnets, identification bracelets, footwear, gowns and a throw blanket (in the premium kit) designed to easily identify patients at risk. This can be especially helpful when patients are being transferred, the company said.
The footwear includes slip-resistant footies.
"Our Safe-Steps Fall Risk Management Kits are designed to help improve patient safety with highly visible patient identification products and fall prevention, created with the Encompass
belief that better care starts with safety and comfort in mind," said Jennifer Woody, senior marketing manager for Encompass Group.