March 08, 2016
Fall-prevention shoes debut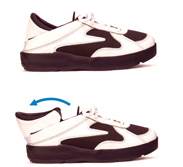 Quikks New Two-Tone Sneaker
The creation of Quikiks gives a new shoe option for seniors prone to falls, the company announced.
Made of a slip-resistant polyurethane bottom sole, all-leather or leather and synthetic mesh uppers, with anti-microbial lining and a gel-cushioned orthotic insole, they promote arch support. They have a patented "Step-in-Go" hands-free mechanism in the linking that has a spring-loaded hinge, said Steve Kaufman, founder of Hands-Free LLC.
This rotates the rear portion of the shoe to create a large entryway for the foot, he said.
As the user steps into the shoe, the rear portion closes. To take off the shoe, the user strikes the heel on the floor.