December 22, 2014
Face mask can protect caregivers, elderly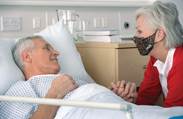 Face mask can protect caregivers, elderly




MyAirMask is a new type of face mask with attachable filters, making it an option for seniors or caregivers avoiding germs.

The mask blocks almost all airborne pathogens and can reduce moisture loss by 88%, the company said.

It is light, breathable and has a four-way stretch sheath. It is reusable, washable and made in the U.S., the company adds.