December 13, 2016
Expansion of carts announced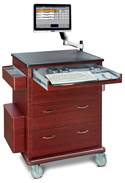 Vintage Tech-Ready medication cart
Capsa Solutions has expanded its Vintage Series Medication Carts and Cabinets line for long-term care and assisted living, the company said.
New products include the Tech-Ready Medication Cart, which features a slide-out keyboard and mouse drawer and mounting solutions for tablets; an Expanded Capacity Medication Cart to meet large storage requirements; In-Room Medication Cabinets that can be wall-mounted or table-mounted; and Base Skirt options to surround a Vintage Series Medication Cart based.
Capsa also offers carts through the Avalo or M-Series.
"Capsa continues to work with our pharmacy partners to update our product line for medication delivery solutions that balance security, easy usage and modern aesthetics," said John Himmelstein, Capsa Solutions Vice President, Sales.