November 25, 2014
EPS releases new styles of oral syringes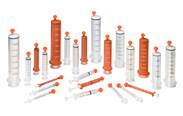 EPS releases new styles of oral syringes
Medi-Dose, Inc. / EPS, Inc. has released new styles of oral syringes with metric-only markings.
There are eight sizes, ranging from 0.5 ml to 60 ml, that are immediately available.
Syringes are stocked in either clear — with orange or blue graduations — or in light-protecting, ultraviolet inhibitant amber with white graduations.
The plunger accurately aligns with the syringe's graduation markings, allowing for clear visualization of fluid levels, the company said. The offset medication port also aids in many enteral feeding applications.
Hands-free plugging tip caps are included with each case of syringes. All metric syringes are compatible with the company's Press-In Bottle Adapters.