December 06, 2017
Enhancements added to incontinence products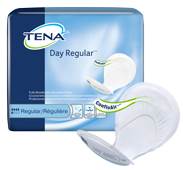 TENA confioair day regular tena pads
TENA®, an Essity company, announced it has added enhancements to its absorbent product portfolio. TENA® Premium Briefs, Protective Underwear and Heavy Pad incontinence products will now feature TENA® ConfioAir™ 100 percent breathable technology. This allows excess moisture to evaporate, improving comfort and moisture balance, the company said.
The technology added to the product is considered an upgrade at no cost to consumers. The briefs and protective underwear also will be in updated pack designs that include the ConfioAir™ banner, along with new discreet case packaging and a back sheet with Smart Scan bar code. TENA ConfioAir™ for Heavy Pads will be available in December.
"With this upgrade to our absorbent line, we are pleased to provide more options that help maintain a care routine and lead to better skin health," said Jessica Lan, Director of Product Management for Essity Health and Medical Solutions, North America.