January 27, 2015
EHOB to provide bedside pressure mapping system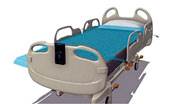 EHOB to provide bedside pressure mapping system
EHOB has reached a distribution agreement with Wellsense and will become a provider of the latter's M.A.P™ Continuous Bedside Pressure Mapping System.
M.A.P can be used on any support surface and allows caregivers to monitor and position patients using real time pressure distribution data.
The system includes a Pressure Sensing Mat and Monitor. It gives feedback to caregivers in order to improve turning protocols.