December 02, 2014
EHOB announces distribution agreement for pillow barrier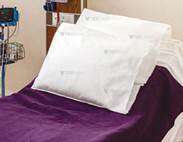 EHOB announces distribution agreement for pillow barrier

EHOB has announced a distribution agreement with TIDI Products in order to sell the TIDIShield Pillow Barrier.

The barrier keeps patients protected through a poly-backed and durable material that fights against bacteria. It is 21 inches by 30 inches and recommended as a basic pillow barrier or under a linen case.


EHOB has traditionally focused on pressure ulcer prevention products. The TIDIShield Pillow Barrier can be purchased through www.ehob.com.