January 18, 2017
Earwax impaction product released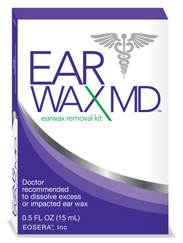 Earwax MD from Eosera
Eosera has introduced Earwax MD, a product that helps clear ears of earwax impaction.
The ailment largely affects the elderly, especially those with hearing aids.
"Millions of people are suffering from ear pain and discomfort due to earwax impaction. Embarrassment mixes with frustration and despair as conventional store-bought solutions fail to solve the problem," explains Elyse Stoltz Dickerson, co-founder & CEO of Eosera Inc.
The topical drop, which has a patent pending, allows healthcare providers to offer a solution that doesn't involve a trip to an ear specialist.
In an evaluation of 30 ears with moderate to severe impaction, the treatment of Earwax MD cleared the impaction in 96% of test subjects, the company said. It reduced symptoms dramatically.