January 10, 2018
Disease prediction service debuts at CES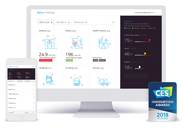 Selvy, SELVAS AI
SELVAS AI is exhibiting "Selvy Checkup" at the Consumer Electronics Show this week.
The system, billed as the world's first AI disease-prediction service, forecasts the probabilities of incidence within four years of the six most common cancers. It also can predict cardio-cerebrovascular disease and diabetes.
"Selvy Checkup is an unrivaled AI healthcare service that enables users to manage their health proactively. As interest in healthy life is rising, we are convinced we will take market leadership with Selvy Checkup," SELVAS AI CEO James Kim said.
SELVAS AI features core AI technologies such as voice, handwriting and image intelligence, along with a machine learning platform.