July 05, 2016
Discovery Channel to feature diabetes management device firm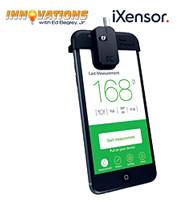 iXensor
The Discovery Channel's Innovations with Ed Begley Jr. program will feature a diabetes management device firm that serves the senior care field later this year.
iXensor, founded in California, invented the PixoTest® system, which uses the diabetic patient's smartphone to merge measurement, data analysis, and cloud-based services.
"Just by their smartphone, they can test their blood glucose and other tests anytime and anywhere," says Alan Tsai, CEO of iXensor.