January 27, 2015
Daylight Medical debuts device for disinfection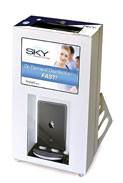 Daylight Medical announces new model
Daylight Medical has announced the addition of a new model to its mobile handheld device disinfection product line called the SKY 7Xi.
SKY 7Xi disinfects in less than 25 seconds, the company said, and can sit vertically on a desktop, mobile cart or wall mount.
"Our goal is to make mobile device disinfection standardized, easy, convenient and effective," said Rick Dayton, president of Daylight Medical.