August 18, 2015
Crest releases new call cord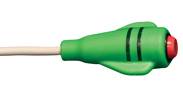 DuraColor Call Cord
Crest Healthcare Supply has debuted the Crest DuraColor™ Call Cord, which features a neon green pendant for enhanced visibility.
The cord is considered a good choice for patients with visual impairments who want additional contrast on the call cord. The cords are for use with ¼-inch phone plug systems and are available in 7-foot and 10-foot lengths.
The new cords were created on the same platform as the DuraCall™ Call Cord.