December 09, 2015
Crest Healthcare debuts mobile call unit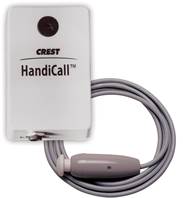 HandiCall Mobile Call Unit
Crest Healthcare Supply has launched the HandiCall Mobile Call Unit.
The system works to summon assistance when nurse call functions are unavailable or where there is no centralized nurse call system.
The battery-operated unit has a sound-maker with two volume settings that can be hung on a chair or walker. It also can be set on a table, and has a 4-foot locking call cord. It can be worn by a resident as he or she walks.