September 20, 2016
Convertible mattress debuts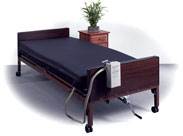 Balanced Air convertible mattress
Drive Devilbiss has introduced the powered and unpowered Balanced Aire Self Adjusting Convertible Mattresses.
The air/foam mattresses offer therapeutic benefits of an alternating pressure Group 2 support surface along with properties of a long-term care therapeutic foam mattress, the company said.
It can be used with or without a control unit, depending on whether alternating pressure therapy is needed.
The mattress is designed with eight air cylinders arranged in rows filled with premium polyurethane foam.
When used as a powered system, the cylinders are filled with air to create a system of alternating pressure with an 8-minute cycle time.
Other features include a durable cover that is fluid resistant and a multi-stretch top fabric cover. There is a 2-inch heel slope and non-skid bottom surface.