March 29, 2016
Cleaning wipe released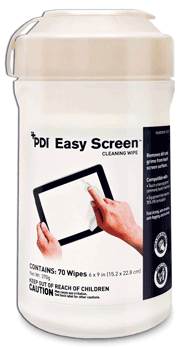 PDI Healthcare Easy Screen Cleaning Wipes
PDI has launched its new EASY SCREEN™ CLEANING WIPE.
The wipe was created to the increasing usage of touchscreens and a product that won't damage technology, the company said. Clinicians using tablets surged from 45% in 2014 to 80% in 2015, according to a recent study.
It rapidly cleans dirt, grime, fingerprints and smudges. The wipe contains 70% isopropyl alcohol and is compatible with a wide range of surfaces including acrylic, glass and stainless steel.