September 06, 2016
Cart dumper helps with safety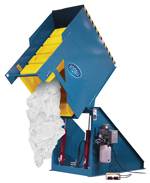 Tingue Cart Dumper
Laundry product supplier Tingue has debuted a hydraulic laundry cart dumper to upgrade worker safety and speed productivity in the incoming soil-sort area.
The cart dumper can be operated via pushing a button, and lifts laundry carts and flips them upside down. This can eliminate manual handling of bagged and loose laundry. Workers have less heavy lifting, and save time.
The cart dumper is made of steel and can dump linen cart loads up to 1,500 pounds routinely, with minimal maintenance. The cart dumper fits the industry standard Poly-Trux(R)72P style bulk laundry carts and a variety of other carts with an overall height up to 67 inches and a width up to 29 inches. It is available in custom sizes.
The automated cart dumper comes fully assembled and ready to operate.