November 11, 2014
Carolinas HealthCare System introduces Virtual Visit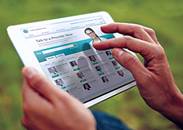 Carolinas HealthCare System introduces Virtual Visit
Carolinas HealthCare System is now offering Virtual Visit, which lets patients visit with a medical provider via an camera-enabled smartphone, tablet or computer. The service is available 24 hours a day, seven days a week.
Virtual Visit is an option for those who are in North Carolina at the time they need care or if they have an established Carolinas HealthCare System primary care provider. It provides help for seasonal allergies, bronchitis and flu, cold, cough, sinus and upper respiratory infections, conjunctivitis or pink eye or skin conditions. After an evaluation, patients can receive a prescription or referral for follow-up care if necessary. The cost for each visit is $49, with no insurance information needed.
To learn more, visit CarolinasHealthCare.org/VirtualVisit, or download the mobile app.