August 09, 2016
Carbon fiber frame rollator released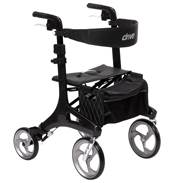 Nitro Elit CF Luxury Rollator
Drive Devilbiss has released its 12-pound, carbon fiber frame Nitro Elite CF Luxury Rollator for patients with mobility challenges.
The company touts the ease with which it can be adjusted, and the seat's durability.
It folds and can be put in a zippered bag. It is handcrafted, and features 10-inch front casters, an EX clip cane holder and a caster fork design.