March 06, 2018
Bluetooth hearing aid connects to cellphone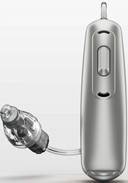 Phonak Audéo B-Direct
Tech company Phonak is showcasing a Bluetooth hearing aid at HIMSS18 this week, which it says is the first of its kind to connect directly to any enabled cellphone.
Utilizing the "Audéo™ B-Direct," users can answer or reject a phone call by pressing a button on their hearing aid. An additional adapter allows the device to connect to smart TVs or tablets, turning the hearing tool into wireless headphones, according to a press release.
The hearing aid also automatically senses its wearer's surroundings and adjusts sound to allow for more "effortless conversation" in noisier environments.
"Phonak is driven to create hearing solutions that are life-changing, and the fact that the Audéo B-Direct hearing aid does not limit users to certain devices or operating systems reflects that commitment," Barb VanSomeren, vice president of marketing, Phonak U.S., said in a press release. "Our proprietary SWORD chip enables universal connectivity to virtually any phone — including the most popular Samsung devices. This represents a huge segment of the population and is why we feel the Audéo B-Direct is not just a game changer for the hearing aid device market, but for the entire healthcare industry."