September 27, 2017
'Blockchain' solution released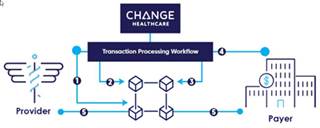 Change Healthcare launches blockchain solution
Change Healthcare has launched a blockchain solution for healthcare, noting that it should let providers boost revenue cycle efficiency and improve analytics.
The announcement was made by Change Healthcare CEO Neil de Crescenzo during the Distributed: Health 2017 conference in Nashville, where he said the company is working with organizations such as The Linux Foundation's Hyperledger project to develop advanced use cases.
"As today's healthcare system becomes more value-based, it's essential that we aggressively and pervasively introduce new technologies into healthcare at scale — whether they leverage blockchain, artificial intelligence, or other emerging capabilities with the potential to improve outcomes and efficiencies," de Crescenzo said. "We are initially introducing blockchain technology to create a distributed ledger that makes claims processing and secure payment transactions work more efficiently and cost effectively for all healthcare stakeholders."
The Change Healthcare Intelligent Healthcare Network™ will support blockchain transactions by the end of this year, the company said, and customers will not have to develop new codes or data formats. Change Healthcare will use Hyperledger Fabric 1.0, an open source blockchain framework that is a Hyperledger project hosted by The Linux Foundation.
The company, which encompasses the former McKesson Technology Solutions businesses, joined Hyperledger as a premier member in May.