July 27, 2016
Benchmark Senior Living adopts ergonomic coffee mug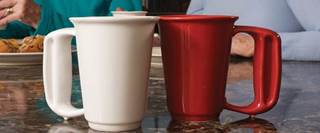 Jamber coffee mug
A coffee mug and teacup developed by Jamber has been successfully tested and adopted at Benchmark Senior Living, the company said.
The cup is designed for seniors and those with arthritis, featuring a special handle for swollen or deformed hands. Jamber, headquartered in Hull, MA, is a new start-up founded by inventors who saw family members struggle with traditional coffee mugs and tea cups.
"Jamber's mission is to create everyday products that truly make life easier for seniors," said Allen Arseneau, Jamber's co-founder.
Benchmark plans to introduce Jamber cups in all of its 53 communities. The company has an 8-ounce teacup with flared lip, a 12-ounce coffee mug and a 16-ounce coffee mug. The cups are available for order via Jamber.