January 18, 2011
Bedbug Solution gives residents greater protection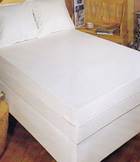 Bedbug Solution gives residents greater protection

Bedbug Solution mattress and box spring covers are engineered to prevent bedbugs from getting into or out of the mattress. This is especially important following any exterminating treatment, since the covers act as protection against eggs or mature insects that may have been missed.
http://www.bargoosebedding.com.