January 07, 2014
Basis introduces sleep analytic tracking device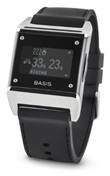 Basis introduces sleep analytic tracking device
Basis has announced its Advanced Sleep Analysis, which can identify users' sleep phases, and a new Basis 2014 Carbon Steel Edition band.
In addition to identifying when users are in REM Sleep and when sleep interruptions occur, Basis can give personalized feedback on average sleep scores.
The analysis will be available Jan. 21 in tandem with the 2.0 version release of the Basis app for iOS, Android and Web.
The Basis Science team had research partners at University of California, San Francisco, San Francisco Veterans Affairs Medical Center and the Northern California Institute of Research and Education in testing the Advanced Sleep Analysis.
Basis's 2014 Carbon Steel Edition has been redesigned, with polished chrome details and stretchable, silicone black straps that allow for improved flexibility and breathability, the company said.