June 20, 2018
Auto-injector provides option for those with RA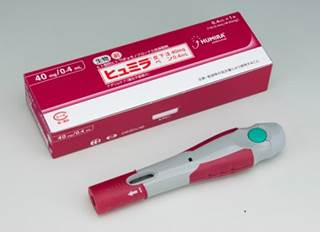 Auto-injector provides option for those with RA
AbbVie GK, Eisai Co. and EA Pharma Co. have debuted the HUMIRA Pen, an auto-injector pen meant to help simplify self-injection.
The product, which has a rounded pen-type body designed to help patients who have a weak grip, features a lock function and auto-injection delivery system that allows for the full amount drug injection in about 10 seconds. It also has injection start and end alert sounds, an inspection window and are filled with the same drug solution as the conventional pre-filled syringe devices, the company said.
HUMIRA for Subcutaneous Injection 40 mg Pen 0.4 mL and HUMIRA for Subcutaneous Injection 80 mg Pen 0.8 mL were listed in the National Health Insurance Drug Price Standard in May and launched on June 11.
HUMIRA works by neutralizing TNF-alpha (tumor necrosis factor alpha), a protein that plays a central role in the inflammatory response of autoimmune diseases such as rheumatoid arthritis. It is used by one million patients in over one hundred countries.