September 15, 2015
Amazon Inventions Tour by Edison Nation announced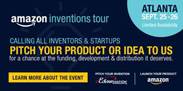 Amazon Inventions Tour, September 25-26 in Atlanta
The Amazon Inventions Tour by Edison Nation will take place September 25 and 26 in Atlanta.
Thousands of inventors and entrepreneurs are expected to present their healthcare products for potential sale on Amazon.com, Edison Nation said. There also will be a "Speaker Series" with 30 people giving presentations.
The event is free and open to the public. Edison has secured a $50 million funding commitment to help inventors and entrepreneurs get their products for sale on Amazon, and said it will be using the fund to help with financing inventory.