April 05, 2016
Aid for socks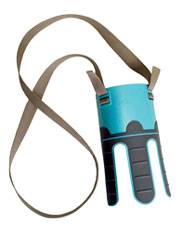 Sock Aid
Seniors who need help with putting on socks now have a new product: The Maddak Supreme Sock Aid.
The device, which is made of plastic, is flexible for different users but also rigid enough to stay open once the sock goes on. A slip-resistant coating provides friction to keep the sock in place.
Once the sock is on the aid, the 30-inch-long loop strap is used to lower the sock aid to the floor, the company said. The user then slips his or her toes into the sock opening and pulls the strap up. Then the sock aid will disengage from the sock.
It can be cleaned in a variety of ways since it is 100% plastic, the company said, including in a dishwasher, which may make it ideal for long-term care facilities.
"Over the course of time, fabric covered sock aids are prone to wear and are not easy to thoroughly clean. The slip resistant material on the Supreme Sock Aid provides a similar function to the terry cloth but will not unravel, ensuring a longer lifetime," said Kathleen Hanek, senior product manager for SP Ableware/Maddak.
SP Ableware/Maddak manufactures products that simplify activities of daily living, and is based in New Jersey.