November 11, 2014
Adult barrier spray used to prevent dermatitis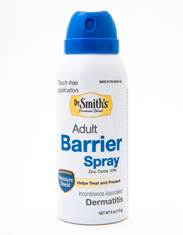 Adult barrier spray used to prevent dermatitis

Mission Pharmacal Company has introduced Dr. Smith's Adult Barrier Spray, a zinc oxide-based spray for adults. The spray can prevent incontinence-associated dermatitis, the company said.

The spray is formulated with Honeywell Sostics Propellant. It is non-flammable. The spray gives off a moisture barrier without dripping or running and won't stain clothing.

Mission Pharmacal is a private pharmaceutical company based in San Antonio.