April 03, 2018
A pharmacy packaging solution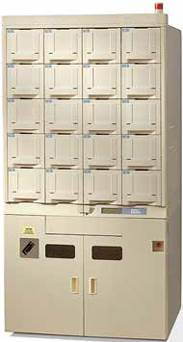 ARxIUM's Panasonic FastPak EXP and FastPak 71
TCGRx, a pharmacy automation supplier, recently announced the acquisition of the FastPak EXP and FastPak pouch-packaging business lines from the company ARxIUM.
This move allows the Powers Lake, WI, company to further its reach in the healthcare market, while also pushing forward with expansion in Canada. The FastPak EXP (pictured) allows for automated prescription fulfillment, along with smart canisters that automatically detect their contents and update medication databases.
TCGRx has installed more than 700 packaging units in facilities since 2006.
"Our goal is to retain these customers by providing them with exceptional service and support, delivered by a highly skilled team with extensive industry knowledge," Executive Chairman Duane Chudy said in the announcement. "Additionally, by sharing the numerous advances TCGRx has made with similar automated packaging technologies, we can help these customers preserve and enhance their investment in their current product technology. We are confident this will result in enhanced patient safety, accuracy and profitability for them."