March 08, 2017
200-pound capacity dryer added to line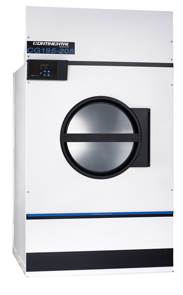 Continental CG
Continental has added a 200-pound capacity dryer to its Pro-Series 11 dryer line. It is the largest dryer in the line.
It features quality components, easy-to-use programmable controls and other features that boost energy efficiency, the company said. It is available in steam and natural gas models, and can quickly dry large loads.
Options include an Integrated Sprinkler System that can sense fire and a Linen Life Extension moisture sensing system.
The 200-pound dryer includes a galvanized pre-coated cylinder; embossed steel front, side and top panels coated with electrostatically applied and a heavy-duty rubber door gasket. It has a three-year manufacturer's warranty.