June 07, 2016
Storm added to Village at Rockville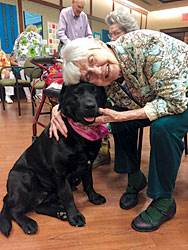 Storm, the black labrador at The Village at Rockville
A two-year-old has joined the staff of The Village at Rockville in Rockville, MD. Black labrador Storm joins as a pet therapy dog.
The National Lutheran Community welcomed the pooch last month and noted that her first week was spent on training and "learning the ropes" with residents and staff.
Storm's employment was made possible through a donation from Metropolitan Washington, D.C. Synod's Gifts of Hope program. The training was provided by Lee Hamilton of Man's Best Friend Dog Training in Madison, OH. The Village is a faith-based continuing care retirement community.
"Storm is one of many pets we are incorporating to help seniors thrive," TVAR Executive Director Jason Gottschalk said. "We believe that Storm, and our other pets, increase the health benefits for our residents and staff. This is one of the many ways we cultivate an environment that empowers seniors to thrive in all dimensions of life."