November 24, 2015
Palombaro chosen for Lake Vista of Courtland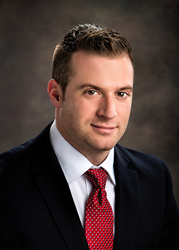 Dean Palombaro

Dean Palombaro has been selected to lead Lake Vista of Cortland. He replaces executive director Richard Miller.

He was previously the administrator at Rockynol, Lake Vista's sister campus, in Akron, OH. Both communities are among Ohio Presbyterian Retirement Services' 12 continuing care retirement communities in Ohio.

Palombaro also has worked as the executive director at the Eliza Jennings Home in Cleveland and as the administrator for skilled nursing and rehabilitation at The Renaissance – Olmsted Township, OH.

He completed his bachelor's degree at The College of Wooster (Ohio) and an MBA from Cleveland State University.