September 27, 2013
New COO at Elderwood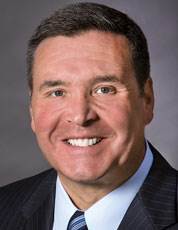 New COO at Elderwood

Philip Quillard is now the Chief Operating Officer at Elderwood, overseeing day-to-day operations, financial and policy decisions and management of 17 Elderwood facilities in New York, as well as other existing properties of Post Acute Partners. Elderwood's headquarters are in Williamsville.

Quillard became Elderwood's executive vice president in 20101, and before that was the senior vice president at HealthBridge Management. Other previous positions include being acting COO and executive director of Braintree Landing Rehabilitation and Skilled Nursing Center in Massachusetts; regional vice president at Shoreline Healthcare Management; and regional vice president for Beverly Health Care (Golden Living).

Quillard is a political science graduate of Bates College in Maine, and has a master's degree in healthcare administration from Framingham State College. He has a certificate in LTC administration from Quinnipiac University.

ElderWood provides skilled nursing care, subacute care, rehabilitation, assisted living, independent living and memory care, to more than 5,000 people each year at 17 locations in Western and Central New York.