May 19, 2015
McDonald Hopkins appoints Johnson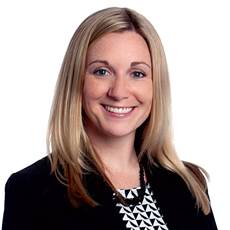 Emily Johnson
The Chicago office of McDonald Hopkins has appointed Emily A. Johnson as an associate in the firm's Business Department.
Previously, Johnson was a healthcare attorney and senior consultant at Murer Consultants, Inc., a national legal-based healthcare management consulting firm. During her several years there, Johnson gained experience in transactional health law, while also assisting health systems and physician groups with beneficial ideas. She also provided frequent consultations to hospitals, physician groups and pharmacists.
Before working at Murer, she worked with the National Association of Boards of Pharmacy and had an internship with the Cook County State's Attorney's office.
Johnson graduated with a Bachelor of Arts in history from Illinois Wesleyan University, and proceeded to John Marshall Law School to earn her J.D.