April 01, 2014
Mace moves to NIC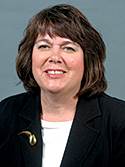 Beth Mace

Beth Burnham Mace has become the first Chief Economist at the National Investment Center for the Seniors Housing and Care Industry. She also will be the Director of Capital Markets Outreach.

Mace was previously a director with AEW Capital Management, AEW Research Group. Before that, she spent a decade at Standard & Poor's DRI/McGraw-Hill in varying roles, including Director of the Regional Information Service. She also has worked as a regional economist at the Crocker Bank in San Francisco, at the National Commission on Air Quality, at the Brookings Institution and at Boston Edison.

She is a member of NIC's Board of Directors and the chairwoman of NIC's Research Committee.

"I am very excited to be joining the NIC staff," said Mace. "I look forward to helping improve transparency in the sector and seeing senior housing become one of the more traditional commercial real estate investment property types for both equity and debt providers in the years ahead."

Mace began March 10, and was a featured speaker at McKnight's Online Expo.

She is a graduate of Mount Holyoke College, and received her master's degree from the University of California.