April 24, 2014
Hunter appointed executive director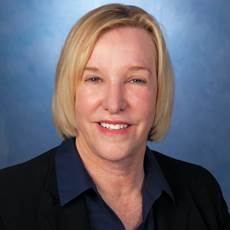 Valerie James Hunter
Valerie James Hunter has been named the executive director for the skilled nursing facility at The Peaks, a senior living community in Flagstaff, AZ.
She comes from Aidan Health Services, a skilled nursing facility in Oregon, where she was the administrator. Hunter, who has 20 years of experience in public health, began her career as a licensed nursing home administrator in Arizona, and was a program manager for the Arizona Department of Health Services. Her accomplishments include drafting Arizona's state stroke plan, and creating healthcare-related promotional materials.
Last year, she became a Certified Eden Associate of The Eden Alternative. She has previously run adaptive aquatics program for the Arizona State Schools for the Deaf and Blind, and taught exercise and nutrition.
Hunter received both her bachelor's degree and a master's degree in public health from the University of Arizona.
The Goodman Group manages The Peaks.