February 04, 2016
Year's top concerns: quality, arbitration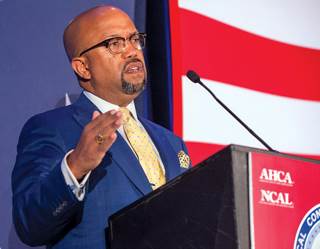 AHCA's Clifton J. Porter II says 2016 could be a quiet year legislatively, but providers must focus on meeting deadlines related to payroll and quality reporting.
Seven months after being surprised by the Centers for Medicare & Medicaid Services' release of a "mega rule," the nation's largest nursing home association said 2016 could be quiet on the policy front.
Legislative agendas during a presidential election year are "typically less ambitious," said Clifton J. Porter II, senior vice president of government affairs and public policy at the American Health Care Association, in January.
However, quality remains a focus, and facilities are working to meet deadlines related to Improving Medicare Post-Acute Care Transformation Act. That legislation is the "railroad track of future payments," he said.
AHCA also expects arbitration to remain a sticky problem.
"Frankly, of all of the rules that were promulgated or issued or proposed in the mega rule, the arbitration issue was the one that probably created the absolute most angst," Porter said.