September 01, 2008
WV: U.S. to grab for gold in Prague's Geri Olympic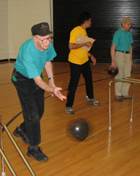 WV: U.S. to grab for gold in Prague's Geri Olympic
Cue the music. Raise the flags. Beijing may have had its moment, but now it's Prague's turn for a spot in the Olympic sun. Next month, the Czech capital will host the Geri Olympics, and the United States will participate for the first time. 

Seven athletes from Cedar Ridge Nursing and Rehabilitation in Sissonville, and Heartland of Charleston will compete against seniors from the Czech Republic. The three days of events will include basketball, horseshoe throwing and wheelchair races.
"Our motto is, 'You go to nursing homes to live, not to die,'" said Dr. Ted Muilenburg, a professor at West Virginia State University and leader of Team USA. "Our athletes will go and prove it and bring home the gold."
Muilenburg actually helped to inspire the international event when he started the Geri Olympics in West Virginia more than 20 years ago.