November 06, 2017
Worth the risk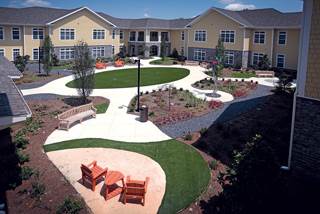 Isakson's Park Springs Health Services center in Stone Mountain, GA was the first in the state to use a household model, and the first facility in the United States to introduce the "butterfly" care m
When Andy Isakson set out to transform his Stone Mountain, GA, senior living campus, he began with a simple vision.
"We opened more than 13 years ago, and people had obviously aged and their need for healthcare had changed quite a bit," he explains. "We wanted to provide the best care for our customer and look at models that worked for our employees."
Isakson, founder and managing partner of Isakson Living, settled on a household model of care for his new Park Springs Health Services building, with five mini-communities dedicated to skilled nursing, memory care and short-term rehabilitation.
He drew up a financial model as his first step for the expansion, knowing he'd need to share his research with any potential lender. The 90-bed building would be the first in Georgia to implement a household model and the first in the U.S. to introduce the emotion-based "butterfly" care model for dementia patients.
"Not everyone finances these kinds of projects," Isakson notes.
Tapping his company's ongoing relationship with SunTrust, Isakson refinanced his entire campus and took out $24 million for the addition. It opened in August with 75% of the units sold.
Facing a tightening market, other providers also are looking for creative ways to expand, refurbish and convince lenders their approach will help them maintain or grow their market share.
Niche projects — including everything from memory care to ventilator units — may be one way to entice increasingly finicky financial partners. Adding specialties is an important consideration for traditional skilled nursing facilities, but owners and operators must be ready to prove they're worth the risk.
"By and large, most SNFs are being challenged right now," says Chris Taylor, managing director of Capital One Healthcare. "Their cash flow might not be where it was a year or two ago. It makes sense to broaden their array of services, but from an underwriting standpoint, it's tough."
Demand projections alone won't carry the day. But detailed plans on improving quality of services, physical plant and operational efficiencies might.
"We want to understand the thesis behind our client's selection of a particular unit mix, scale, aesthetic," says Evelyn Lee, senior vice president of SunTrust's Aging Services practice. "We want to review the data that drove that decision. We want to get a feel for how well the client knows that geographic area and what resources they have partnered with to help them bolster that knowledge."
Competitive concerns
Anthony Luzzi, president of Sims Mortgage Funding, says developers are most likely to find financing for new construction or renovation in the assisted living and memory care segments because they aren't constrained by third-party reimbursement.
"These assets, if developed and managed properly, can provide attractive returns," Luzzi says. "However, since there are fewer barriers to entry for assisted living/memory care projects than there are for skilled nursing facilities, and capital to finance new projects is still relatively affordable, there is always a chance that returns could be compromised by a saturation of a market by overbuilding."
That means lenders want proof that specific geographic areas aren't already overbuilt.
But Taylor is growing skeptical of dedicated memory care facilities. Assuming they have the same $5,000 to $7,000 monthly price point as an upscale assisted living facility, he said he might prefer a project that leaves the operator a wider customer base.
Memory care, after all, comes with additional costs in security and design.
"Anybody that's an operator in that space, they're going to understand," Taylor says. "You always have to ask, 'Would I put my own mother here?'"
Isakson set his memory care facility apart by offering the "butterfly" model, an approach popularized in the United Kingdom that supports the emotional needs of dementia patients through extra staff training and programming. He had to explain the practice to SunTrust and show that it could also create demand among current residents and people outside his community.
"You make a mistake if you build your business model on what's easy to finance," Isakson says. "I'd rather do what's right and fight for the money."
Variety encouraged
If they can afford it or have any previous expertise with licensing, Love Funding's Bruce Gerhart suggests developing facilities that have a range of care from assisted living to skilled nursing.
After more than 30 years in the industry, he's seeing many of his former clients return to incorporate assisted living and memory care into existing buildings.
He adds that providers today make a mistake by building senior housing without a healthcare component. If they can afford the licensing and the 24-hour-a-day oversight, they should find a way to incorporate higher-acuity care.
"Facilities are realizing it may be more profitable to have more assisted living," says Gerhart, Love's Midwest regional director. "Residents might be in a facility that is licensed for skilled nursing, but they may be able to stay in that original room for longer."
Steve Kennedy, senior managing director at Lancaster Pollard, says one possible funding source for niche conversions is an FHA 241 supplemental loan that can cover up to 90% of costs, is non-recourse and isn't subject to prevailing wage requirements that can drive up costs (if completed on a project originally refinanced through HUD).
Gerhart also offers government-backed programs allowing clients to finance improvements on top of an existing HUD-backed loan or a non-HUD loan.
He's looking for more information than ever about how new spaces will be operated.
"The operator is the one seeing things happening every day," he says. "Pricing will always go up, but efficiency is going to become more important. In most cases, it's a mistake for the developer not to use an outside operator. I really love to see an operator who has a long-term plan and flexibility to respond to market and regulatory changes."
Luzzi says additions require consideration of the rationale for new units, whether proposed rents and operating expenses fall in line with existing market conditions, and if the cost to expand is reasonable. He wants to work with a developer who has "a solid track record in the development and lease-up of the asset type."
Conversions sought
The funding news is fairly negative for companies looking to open new sites, with Taylor citing recent regulatory issues within the lending industry.
Underperforming facilities — including those with low Five-Star ratings or poor census — can come with bargain price tags and might seem a low-risk alternative to new construction.
But developers and operators need to be cognizant of the reputation a facility has in its community. A detailed turnaround plan is essential both to secure funding and attract new residents.
"If the asset is underperforming, providers need to articulate to lenders what is the plan to bring it to a higher level of performance, how long will it take, and how much liquidity will be needed," Luzzi says.
It's often for those pre-existing assets that developers can secure traditional government-backed loans. But HUD-insured funding can take months to complete, leaving the door open to speculation about a facility's future.
Jeff Binder, principal and managing director of Senior Living Investment Brokerage, says the ability to close the transaction in a timely manner is one of the main characteristics he looks for in a buyer.
"The longer a transaction takes, the greater the risk in something negative happening," Binder says. "Confidentiality is paramount in seniors housing. A breach can cause unrest with both residents and employees, both of which can become unsettled if they hear the community is for sale."
When Love Funding was bought by Midland States Banks about three years ago, it gave the lender the added benefit of being able to offer bridge loans.
That was the case in March, when the company obtained a Texas client a 60-day bridge loan that let the buyer move forward on the seller's timeline. The buyer then transitioned to a lower-rate, non-recourse HUD loan with a 35-year term.
Binder says his sellers want buyers who qualify from the standpoint of financial, regulatory and previous transaction track records.
There are still more creative options and decent terms in the commercial sector for those who can prove their past ability and demonstrate potential.
One smart approach Taylor says he sees is clients looking for facilities with excess land that can be converted into something attractive to the private-pay market, such as independent living cottages to supplement income from an existing healthcare facility.
With any acquisition, Luzzi wants detailed, historical financial statements, information on the asset's physical condition, a capital budget and a turnaround plan (if needed).
Before it funds a new project, SunTrust often seeks a third-party feasibility study and current dashboard information on a client's other locations, says Randall Loggins, senior vice president of SunTrust Commercial Banking.
"When we feel comfortable with the integrity, expertise and long-term commitment of a potential client, our appetite to support that project is materially higher."