April 22, 2008
World's oldest person turns 115 at Indiana nursing home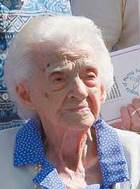 World's oldest person turns 115 at Indiana nursing home

The woman believed to be the oldest person in the world celebrated her 115th birthday on Sunday at Heritage House Convalescent Center in Shelbyville, IN.

Edna Parker was declared the oldest person on the globe last August. She's "never been a worrier," according to her grandson Don. That may be one of the reasons she has lived so long. Researchers from the New England Centenarian Study at Boston University have observed that good stress management seems to be a recurrent theme among centenarians, which could help protect them from heart attack or stroke.

Edna is one of only 75 people alive who has made it to age 110 or over. Two years ago, researchers from the project took a blood sample from Parker for the group's DNA database of supercentenarians. Researchers hope that blood samples from this group will hold genetic clues they can use to reveal the secret to longevity.