May 06, 2017
Windows create a new world for residents with dementia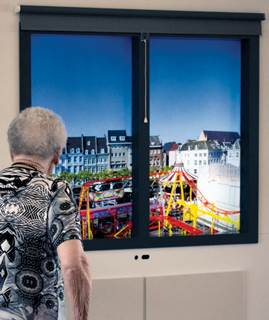 VENSTER can show pre-recorded calming content to residents.
Dutch designers have developed interactive art screens to help nursing home residents reconnect in a more meaningful way with family, caregivers and the outside world.
VENSTER, which means "window" in Dutch, consists of two large touchscreens, vertically mounted on a wall to look like a window, and a Kinect sensor which tracks the user's position. A string attached to the blind serves as a switch to change the scene.
Devised by designers at Zuyd University of Applied Sciences in the Netherlands, VENSTER shows pre-recorded calming content, such as a nearby park, or activating content, such as a little girl placing her hand on the window and waving. The installation also can show interactive content, such as falling snow, which can be manipulated in real time using the touch screen. In addition, when the installation detects the presence of a person, music starts playing.
Researchers tested the installation's response through eight two-hour evaluation sessions with groups of nursing home residents with dementia, and their caregivers. Their results were published in the journal Disability and Rehabilitation: Assistive Technology.
The researchers found that the most frequently observed responses were naming, recognizing or asking questions about the depicted content and how the installation worked; physically gesturing towards or tapping on the screen; and tapping or singing along to the music.
Although sessions with "calming" content lasted up to 90 minutes, resident interactions were brief and participants often lost focus or even fell asleep. When presented with "activating content," however, participants were generally calm and focused for up to an hour. In contrast, residents on the unit had previously often been agitated, staff reported.
Sessions with "interactive content" were shorter, but rich in responses and positive engagement with caregivers.