July 08, 2011
White House, Baucus, support 'blended' Medicaid payments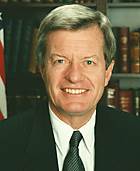 Senate Finance Committee Chairman Max Baucus (D-MT)

Senate Finance Committee Chairman Max Baucus (D-MT) said Wednesday that a proposal to implement "blended" payment rates for Medicaid is "on the table" in negotiations over raising the federal debt limit. This proposal could save the government up to $100 billion over 10 years, the Bureau of National Affairs reports.

Currently, the federal government pays separate matching rates to states for Medicaid and the Children's Health Insurance Program. Under the new proposal, the government would consolidate these into a "blended" rate for each state. Baucus also signaled last month that repealing the Affordable Care Act's maintenance-of-effort requirements for Medicaid is up for discussion. MOE requirements dictate that states keep their Medicaid eligibility requirements at the same limit as when the reform bill was passed.

White House spokesman Nick Papas said President Obama supports a blended payment framework. It would "replace the current complicated federal matching formulas with a single matching rate for all program spending that rewards states for efficiency and automatically increases if a recession forces enrollment and state costs to rise," Papas told BNA.

Stakeholders, including LeadingAge's Larry Minnix — who opposes other Medicaid fixes such as block grants — told BNA his organization, which comprises nonprofit providers, will "take a hard look" at blended payments.