December 06, 2016
Where Are They Now: Life Care Centers of America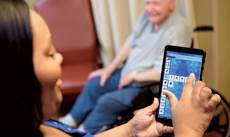 Life Care Centers of America
In the two years since winning the Gold Award for Transitions in the McKnight's Technology Awards, Life Care Centers of America has continued to enhance its electronic health records system, SofCare2.
Recently, the provider completed the integration of a point-of-care feature into SofCare2 for certified nursing assistants, which can track activities of
daily living, says Joy
Abraham, vice president of application development at Life Care Centers.
"We finished deploying it to all our facilities in the middle of this year," he notes. The feature is completely mobile and is integrated into the primary clinical application part of SofCare2. Among its qualities is allowing staff to track status of documentation.
They've also integrated an in-house rehab system called SofCare2 Rehab. Next up is rolling out a nursing assessment feature, called e-assessment, which has been in pilot mode for four months.
"This is a mobile app that can be deployed on tablets, and has been designed for mobility," Abraham says.