August 09, 2017
When the house wins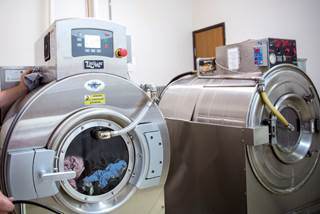 The costs of chemicals, equipment and, of course, labor are top concerns for on-premise laundry service. But advantages include being able to reclaim high standards and to mitigate geographic problems
Regardless of where it's performed, laundering generally matters little to people once they leave home. What's important to every single one of them is whether it's clean, sanitary, intact, of acceptable quality and always there when it's needed.
To those nursing homes in charge of providing the service, however, these are just a small number of the considerations many are beginning to confront. It is, in a sense, a classic "make versus buy" decision. Some are sticking with entrenched on-premise laundries (OPLs) for myriad reasons: a favorable and cost-efficient track record, longstanding vendor partnerships or even reputations for providing outstanding laundry services.
Meanwhile, others now grappling with razor-thin margins, possibly rising census, declining reimbursements, heavy labor costs and staff attrition are focusing on their core business and are simply finding their survival means transitioning the washers and dryers and the people who operate them to any number of highly qualified commercial laundries to handle.
But yet there's the small, and some say growing, number of nursing homes that are finding ways — many through attractive financing or other means — to bring laundry back under their roof. The old adage "healthcare is cyclical" holds true.
Either way, these are considerations that require a great deal of homework, soul-searching and business savvy.
On the fence over laundry
Years ago, hospitals led the industry in outsourcing everything from operations to clinical services such as diagnostics. Yet most nursing homes with on-premise laundries held on. Interestingly, however, others that abandoned their OPLs never looked back.
Still, for those nursing homes on the fence about whether to start or resurrect their OPLs, there are copious amounts of good advice to do just that.
Many suggest focusing in on issues that include the costs of chemicals, equipment and linens, labor expense, physical plant costs (including utility operating expenses and retrofits), the tolerance for and impact of what could be lengthy project timelines, permits and licenses, insurance, uniforms, training, and of course, the ubiquitous regulations from the Centers for Disease Control and Prevention, the Occupational Safety and Health Administration, and the Centers for Medicare & Medicaid Services, not to mention state and local ordinances.
Many believe, in fact, nursing home OPLs are quite feasible with the right cost-benefit analysis. Dan Goldman, OPL national sales manager for Laundrylux, says any laundry machinery company will usually offer a free on-premises survey as a step for those nursing homes considering restoring their OPLs or starting anew. The surveys would explore areas such as par linen counts, peak usage and typical daily poundage demands.
Of course, equipment vendors strongly urge owner-operators to do their homework on equipment tech because it seems to improve and innovate at lightning speed.
One motivator to move away from a commercial laundry is when service or quality is slipping.
"The primary motivation for bringing laundry in-house is poor service from an outside vendor," says Seth Willer, national sales manager for Continental Girbau Industrial. Girbau and Lavatec Laundry Technology have a partnership where each company markets specific equipment for each other.
"In my experience, if an outside laundry vendor is providing a reliable quality service,
nursing homes will tend not to stray and accept a fair market price. Poor service may be a reflection on the laundry vendor, or simply a geographical obstacle," he explains. "Rural nursing homes, for example, typically don't have many vendor options and have to take whatever they can get."
Many hospital issues differ from nursing homes', but consider Hoisington, KS-based Clara Barton Hospital, which walked away from its 63-year-old relationship with a commercial laundry in 2013. It saved more than $350,000 annually by bringing it back to OPL status, according to Continental Girbau Industrial.
Then there's Ramsey Village, a continuing care retirement community in Des Moines, which attributes a longstanding partnership with Ross Chemical Systems Inc. and Continental Girbau with its OPL success.
Other motivating factors for returning to OPL are increased staff efficiencies, streamlined processes and actual cost savings, according to Rick Murphy, sales manager for Whirlpool Corporation Commercial Laundry. But as Murphy cautions, "If a laundry operation is an afterthought in facility design or an add-on at a later time, there's often inadequate space, venting or a less-than-ideal operational flow, which can make it difficult to be efficient."
Not a magic bullet
Bill Brooks, UniMac® North American sales manager, also warns providers that outsourcing doesn't always save money.
"It's a common misconception that outsourcing laundry service is a cost-saving measure," Brooks says. "Actually, the commercial laundry option is rarely less costly than an on-premises laundry."
When factoring in the tax benefits of equipment purchases and the outsource "challenges" over delivery, pickup and logistics, OPL gets more attractive, he adds.
Quality also is a key motivator because equipment manufacturers build in sophisticated monitoring technology that reliably manage cycles and temperatures, he says. One major reason facilities prefer keeping their commercial laundry partners is the peace of mind certification brings, according to Ken Koepper, director of marketing and public relations for TRSA, an advocacy group representing the linen, uniform and facility services industry.
"Both hospitals and nursing homes recognize that certifying is a good idea," says Koepper. "Awareness is greater in the hospital market than the long-term care market because many more hospitals outsource laundry and have a greater infection control challenge."
That pendulum could swing the other way in the next few years, however, according to some industry observers. They point to tight budgets as well as mounting uncertainties over chaotic healthcare reform efforts.
But they could be in the minority. One unnamed top executive of a large Midwest chain of subacute communities says he plans to outsource its laundry, housekeeping and food service to one company, mainly over worries about looming Medicaid cuts and unfavorable tax climates.
"Laundry is not the point at the end of the spear here," he says. "For most nursing homes, those three areas are the essence of the unskilled part of skilled nursing facilities. These are painful decisions. But I'd rather spend our time and money on clinical quality and customer satisfaction."
A heavy load to weigh
Renovations are among the biggest drawbacks to OPLs because upgrade capital isn't necessarily plentiful or affordable, some say. Ongoing maintenance expenses also can be a drain. In addition, rules around infection control and safety scare off many.
And the liabilities can be a headache. As the Midwest executive above notes, "Laundry is one of those areas when you lose mom's socks or her favorite bathrobe, you're in big trouble."
One East Coast administrator says the facility "really doesn't have the 'typical' OPL laundry problems with issues like lost nightgowns and lost underwear because the individual responsible for being so efficient in that area" works for the service they outsource their laundry labor to.
This points to an increasingly popular OPL hybrid in which nursing homes own or lease their washers and dryers and subcontract the personnel who manage linen services to a third party — an option that seems more affordable and manageable to many owner-operators. Another option is working with companies that provide both the equipment and personnel in-house.
Jacob Zahler, COO of Cleantex, offers a litany of problems OPLs pose, including equipment breakdowns, loss of inventory control, and bad carbon footprint. And as Wash Cycle Laundry, a Philadelphia commercial laundry notes, facilities may have a hard time "giving up" floor space that may be better suited for beds, resident care, storage or activities. n